Making the Most of Summertime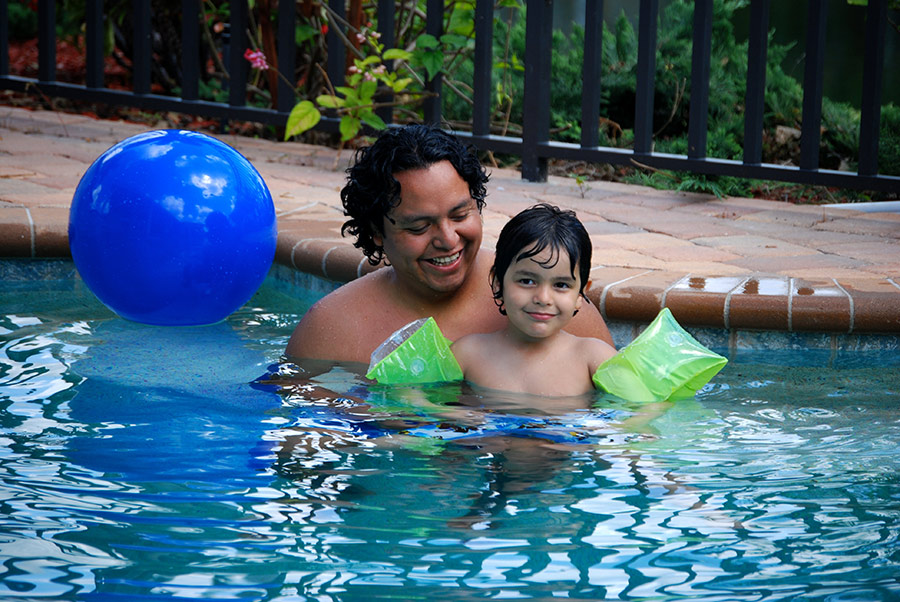 I don't know about how others approach summertime, but in the midwestern U.S., most people look forward to the summer months all year long. I would imagine that perhaps in a climate like Arizona's, where the summer temperatures are so intense that people must stay indoors more, attitudes towards summer differ quite a bit from what we midwesterns tend to feel. Recognizing that feelings and attitudes may vary, I'd like to share some of my visions of summertime and the struggle to make one's visions a reality.
There are outdoor art and cultural fairs around the city (I'm located in the Chicago area), there are free concerts downtown in a beautiful bandshell adjacent to a gorgeous public park that is worth visiting on its own. The beaches are open, as are the local community pools, and of course two professional baseball teams play baseball all summer long. There are wonderful farmers' markets around the city and suburbs, where one can buy freshly grown fruits, vegetables, breads, and a variety of other treats each week. There is a lot do outdoors in the summertime!
Each year, I make a plan to go to a few concerts at Milennium Park, where one can simply pack a picnic, take the train or drive downtown, and attend a wonderful classical music concert under the stars for free. A delightful way to spend a summer evening. And I attend the farmers' market in my community regularly. I always plan to spend sometime sitting by a pool and taking a swim, to take long walks along the lakefront, and to attend at least a few art or cultural fairs as well.
The problem is that life tends to interfere with those plans sometimes! Perhaps one has a sick friend and needs to spend time making hospital visits or preparing and bringing meals, perhaps work is extremely busy and weekend time gets taken up with the daily chores that can't be done during the week, maybe the weather is so hot or rainy on the weekends that spending time at the pool or beach or walking along the lake is not as appealing.
What I've come to realize, over the years, is that it's good to make plans for one's summer and think of some activities one would like to take advantage of. But it's helpful to keep a realistic view and recognize that it's likely that not all of one's visions of summer fun may actually come to pass.
If I can do a few of the things I hope to do each summer, I'm happy. One open air concert, at least a few long walks outdoors, one or two trips to the beach or a pool, and if I'm lucky, one art or cultural fair makes the summer very joyous.
I'm lucky in that on the exercise walking route I've developed for myself in my neighborhood, there's a lovely little rose garden. Once the roses are blooming fully, in July usually, I try to walk through the small garden on my exercise walks and actually stop to smell the roses! Although many roses are (sadly) bred nowadays to be resilient to bugs, etc, and many no longer have a strong fragrance, there are still a number that do, and the scents actually vary quite a bit from one type of rose to another. Inhaling the intense and varied scents of the roses on a sunny day makes me feel really happy, no matter what else may be happening in my life!
There is still time this summer to develop a realistic plan for yourself and your children! Take a train to a different community that has a nice park or garden, go to the city center and walk around and look at the tall buildings, find a community pool where you can take a swim, look up a local art fair or county fair you could attend with the children, find at least two special outings to have before the summer is over and go and enjoy! If you are working in a preschool setting, organize activities outdoors one or two mornings a week, and spend the whole morning outdoors! Thinking ahead to next year, if you have an outdoor space that belongs to your program, plan to plant some flowers or vegetables with the children next year so that you can care for them and watch them grow. For this year, buy some inexpensive pots of herbs at the grocery store and keep them indoors or out, and use them to season snacks that you make (buy an oregano plant and make mini cheese pizzas with fresh oregano!).
One way to ensure some enjoyment is to plan ahead how you will handle any special excursion...will you need to buy things there? Can you bring your own refreshments? Talk about what you will see and do with the children ahead of time so that they know what to expect.
And make at least one of the special excursions something special just for you as an adult and not as a teacher or a parent. Find somewhere to take a pleasant, safe walk, hopefully where you will see some plantings and flowers...and if you're lucky, smell some roses!!!
Questions or comments? call Nancy Bruski at (847) 475-1828 or post them on our contact form.